Since its launch in June of 2013, Code for BTV has engaged hundreds of civic hackers on well over 20 projects with an estimated 2,500 hours of volunteer time. Our strength is in the passion and diversity of our membership. Though most of our work produces digital products, we draw on the expertise of all types.
Past multidisciplinary projects include:
Members with a background in geography coordinated Vermonters in a disaster mapping event following super typhoon Haiyan.
Teachers and naturalists worked alongside coders to build Lakecraft, an educational Minecraft world that replicates the Lake Champlain basin.
Other projects have been built with help from hospital workers, farmers, social workers, librarians, fishermen and many, many others.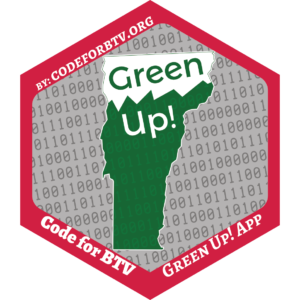 Green Up Day has been a beloved Vermont tradition since 1970. Though people turn out in the thousands across the state every year, Green Up Vermont (the non-profit organization behind the event) believes many more people would participate if they were invited. Green Up Day is also a very grassroots event, which ironically can sometimes make it more difficult for people to find information on the related local events.​ A mobile app can neatly address these issues and more.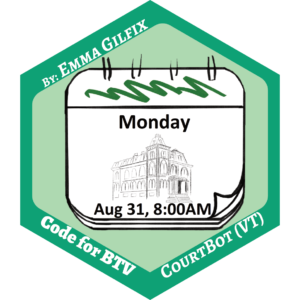 CourtBot is a text message notification system intended to allow anyone to receive automatic court date attendance reminders, for the express purpose of keeping people with court dates from missing them and suffering terrible consequences when they do.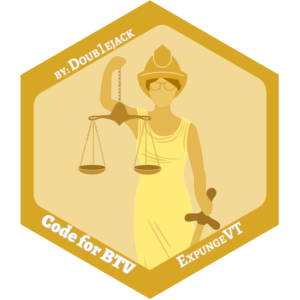 Vermont Legal Aid (VLA) holds expungement clinics because old records are unnecessarily punishing for Vermonters – emotionally & economically. These records interfere with getting a job, housing, food assistance and other aspects of life. VLA's clinics help hundreds of Vermonters each year, but since each form is currently completed by hand, it can take hours to process a single person. This project is aimed at generating printable, pre-populated forms in order to help VLA serve more Vermonters faster.